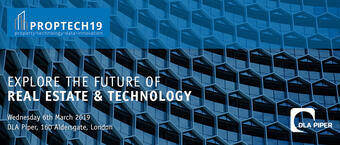 PROPTECH19 will explore how technology is fundamentally changing how real estate is used, developed, managed and invested in – looking at the opportunities for business leaders and their organisations. Luminaries and industry experts will share global case studies, new innovations and thought leadership to help businesses prepare for the future. Join leading industry professionals to discuss the future of real-estate technology.
PROPTECH19 caters to the needs of senior professionals looking to further knowledge and share expertise in real estate and technology innovations impacting the workplace.
As a partner to the event, we are happy to offer you a 20% discount to attend. Book Now!
Benefits of attending:
Understand how digital transformation will impact the real estate sector Learn how your property portfolio will benefit from the latest technologies Hear best practice examples and global case studies which will help you future-proof your workplace and business strategies Network & meet like-minded peers in an informal and interactive setting
Sessions Include:
'PropTech 3.0: The Future of Real Estate' by Andrew Baum, Professor of Practice, Saïd Business School, University of Oxford. This influential academic, advisor, investor and author of PropTech 3.0 will share his thoughts on how the property sector should adapt to exploit the exponential potential of the technology challenges it faces.
'Twentytwo: A New Workplace Concept' by James Goldsmith, Head of Leasing, AXA Real Estate. Twentytwo Bishopsgate is located in the heart of the City and is one of London's most highly anticipated office buildings. The concept responds directly to the major shifts in the way people work and live, brought about by cultural, demographic and technological advances in the world of work. This session will consider the vision for the office tower, which has ambitious plans to include a fresh food market, innovation hub, gym, wellbeing retreat and spa, curated 'art walk', business club and cycle hub, as well as London's highest free public viewing gallery.
'Big Data Changing Real Estate: Panel Discussion' joined by Anthony Day, Partner, DLA Piper; Paul Jayson, Partner, DLA Piper; Rawle Howard, Global Head of Capital Markets, Cloudscraper Exchange; Fionnuala Hogan, MD, GoldAcre. Tech is influencing the fundamental workings of the property industry and it's changing how businesses operate. There are now huge opportunities for real estate to analyse the data available to them to enable smarter and faster decisions and enrich assets with services that make them customisable and more attractive. This expert panel will explore the scale of challenges, disruption and opportunities that technology innovations and big data will bring to real estate in the next few years, looking at how we can make better and faster decisions
Other speakers include:
Julie Alexander is a Director of Technology and Innovation at Places for People, one of the largest property development and asset management companies in the UK. Julie is a member of the Smart London Board and is Chair of the Managing Board of UKCRIC, the UK's leading urban infrastructure research community.
Dr. Stephen Lorimer is the Smart London Strategy and Delivery Officer at the Greater London Authority. He is responsible for the Mayor's plans and programmes in smart city technologies and innovation in digital public services. He is the officer responsible for drafting Smarter London Together, the roadmap the Mayor released on Monday 11 June to make London the smartest city in the world.
Ron Bakker, Founding Partner, PLP Architecture. Ron helped co-found PLP Architecture and has an interest in the architectural techniques that influence the qualities of gathering places in our cities and buildings together with genuine excitement about the role of new technologies in the built environment. Recent key projects include The Edge, which was created as the world's most sustainable office building and developed by OVG Real Estate for Deloitte in Amsterdam, and the redevelopment of an outdated 1960s building in Westminster, London that created a new bespoke headquarters for the luxury brand Burberry on behalf of Derwent.
Join other leading companies such as Hackney Council, The Crown Estate, PWC, EDF Energy, GlaxoSmithKline, Facebook and many more to explore the real estate industry's digital transformation and what this means for your organisation. Book Now!