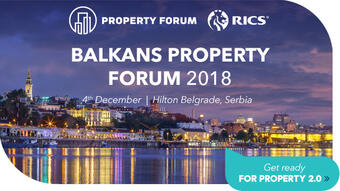 Jointly organized for the second time in Belgrade, in close cooperation with the RICS, Balkans Property Forum is a leading property event in Southeastern Europe. The conference brings together leading experts from the real estate sector, senior economists, bankers and other industry experts to provide an excellent opportunity to hear from and network with all the important players in the region's property industry.
The programme of Balkans Property Forum will cover a diverse range of topics. To kick things off, one presentation will provide an economic overview of Southeastern Europe and another will focus on the key trends defining the future of the real estate industry. An international investors' roundtable will look at investment opportunities in the key markets of the region, namely Serbia, Bulgaria, Croatia and Slovenia. An individual panel will focus on new developments in the city of Belgrade and a special discussion will be dediacted to the emerging markets of the region (Macedonia, Albania, Montenegro, Bosnia-Herzegovina). In the second part of the conference individual panels will provide a detailed look at the office and retail markets and another one will explore the challanges property valuers face today.
Innovation will be a key issue discussed at Balkans Property Forum. New technologies are rapidly rewriting the rules of the property business and it is the mission of Property Forum and RICS to prepare real estate professionals for future changes affecting the profession. All of the panel discussions will answer questions realeted to technolgy in real estate and a special proptech session will help better understand the key changes influencing the industry.
Property Forum is a leading media and event platform in the CEE real estate industry with nearly 10 years of experience. Property Forum organises conferences, business breakfasts and workshops focused on real estate, in London, Vienna, Budapest, Bucharest, Bratislava, Prague, Warsaw and Belgrade, amongst other locations.
The Royal Institution of Chartered Surveyors (RICS) is the official event partner for Property Forum events. RICS is the world's leading qualification when it comes to professional standards in land, property and construction.
Program:
Csanád Csűrös, CEO, Property Forum, Mobile: +36 30 235 8149, E-mail: [email protected]
Ákos Budai, Editor-In-Chief, Property Forum, Mobile: +36 30 424 2655, E-mail: [email protected]
Anna Orcsik, Regional Manager CEE, RICS, E-mail: [email protected]
Sponsorship:
Attila Bacsa, Head of Sales, Property Forum, Mobile: +36 30 650 9833 E-mail:, [email protected]
Organization, general questions: [email protected]