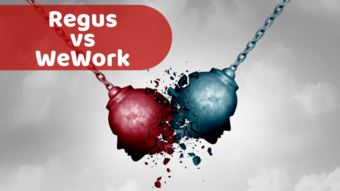 HQ has long been used as casual shorthand for headquarters, but the term is at the heart of a trademark infringement lawsuit between the world's two biggest providers of flexible office space.
IWG, through two Texas-based subsidiaries, has filed a lawsuit against WeWork in Dallas federal court, claiming WeWork's new business line, HQ by WeWork, infringes on a 28-year-old trademark registered to HQ Network Systems, which Regus acquired in 2004.
IWG claims the HQ by WeWork brand could confuse customers because IWG still has a brand called HQ Global Workplaces. That brand operates from the website hq.com, and the HQ brand has existed since the 1970s, the suit claims. The lawsuit claims the name HQ by WeWork could "cause confusion and deception in the marketplace."
"Plaintiffs have expended extensive time and resources over the last thirty-eight plus years in advertising, promoting, and developing the HQ Mark," the lawsuit states. "As a result of such advertising and expenditures, the relevant public has come to identify all such goods and services offered under the HQ Mark as coming from Plaintiffs alone."
The subsidiaries, Regus Management and RGN-US IP LLC, also claim that WeWork unlawfully interfered with their businesses with the practice of offering brokers a 100% commission for leases with companies that occupied space with a competitor. Regus also claims in the suit that WeWork staffers have cold-called IWG tenants and offered them 50% discounts on rent if they move to a WeWork location.
The suit was filed Sept. 19 in U.S. District Court in Dallas. WeWork filed a countersuit Oct. 9, denying all of Regus' claims and asking the court to invalidate Regus' trademark, based on the idea that HQ is a common term for headquarters and should not be considered intellectual property.
"This is not about WeWork or one of our brands; it is about the use of a word," WeWork said through a spokesperson. "Headquarters, or its abbreviation HQ, is a a type of office space. We believe it should be available to all companies who offer headquarters or office space services."
Attorneys for Regus did not reply to a request for comment.
The HQ trademark, No. 1,586,038, was granted for a specific logo design, with large, black letters without a background.
WeWork announced the HQ by WeWork business line Aug. 8. On Aug. 9, HQ Network Systems LLC applied for a trademark for HQ as a service mark, "without claim to any particular font style, size, or color," according to the application with the U.S. Patent and Trademark Office. That application is pending.
The dates and distinction between the logo trademark and the general HQ trademark application were noted by WeWork in its counterclaim.
"WeWork innocently decided to use the term 'HQ' within the 'HQ by WeWork' phrase to refer to the types of 'headquarters' that WeWork could design for third-party medium-sized businesses," WeWork's claim states. "No entity ... should be allowed to monopolize the commonly used generic term 'HQ' in the real estate or office space industry."
Regus has asked the court to issue an injunction to prevent WeWork from using the HQ by WeWork brand, and it is also seeking monetary damages and attorneys' fees.


(source: bisnow)